Wheelchair that can be controlled with your MIND
- scientists create helmet that coverts brain waves into wheel movements
A mind-controlled wheelchair proved successful at helping paralyzed patients navigate through a cluttered room
Participants imagined they were moving their hands or feet to drive the chair
To move right, the participants imagined moving both arms and to move left, they imagined moving both legs
By Stacy Liberatore For Dailymail.com
A mind-controlled wheelchair that translates brain signals into wheel movements brings hope to more than 5.4 million Americans with motor disabilities.
The technology, created by researchers at The University of Texas at Austin, includes a skullcap with 31 electrodes designed to detect signals in the brain region regulating movement and a laptop fixed on the wheelchair so the AI could translate the signals into wheel movements.
And all patients have to do is imagine they are moving their hands and feet.
To move right, the users imagined moving both arms and to move left, they imagined moving both legs.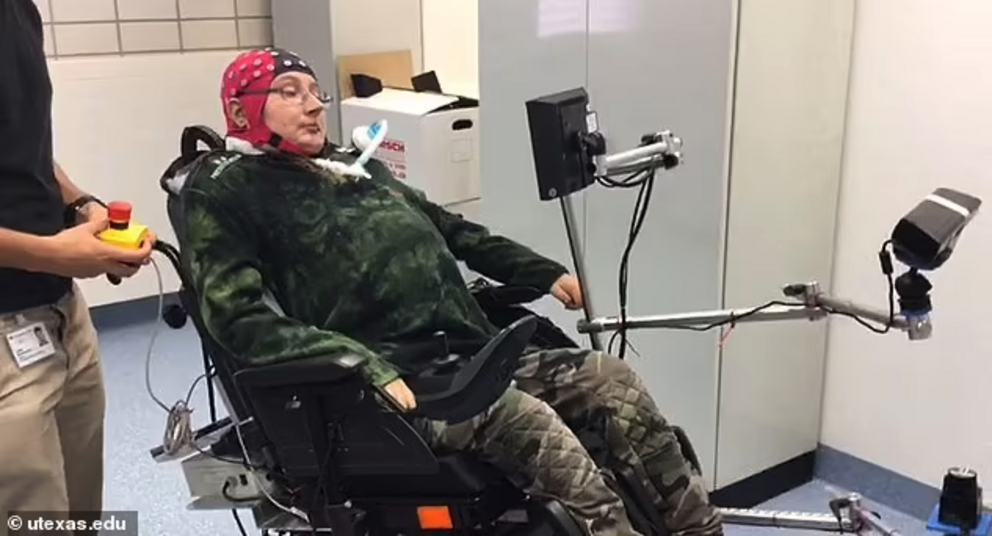 A mind-controlled wheelchair proved successful in helping paralyzed patients navigate a cluttered room. The patients are fitted with a cap of 31 electrodes that detect brain signals
For the rest of this article please go to source link below.