Breakthrough 'mind reading' tech turns thoughts into sentences on a screen
Scientists create 'mind-reading' device which analyzed the brain waves of non-verbal, paralyzed man and turned them into sentences on a computer screen in medical first
Researchers have created a device that uses brain waves to translate what paralyzed people who can't speak intend to say into sentences
The device learns by analyzing brain waves that normally control the vocal tract when patients attempt to say common words such as 'water' or 'good'
It was tested on a man who suffered brain-stem stroke that caused widespread paralysis and robbed him of speech
Once the device learns to differentiate, the patient will answer questions by thinking about what to say and the the words will appear in text on a screen
The team hopes to improve the device's speed, accuracy and vocabulary size and even use a computer-generated voice rather than words on a screen
Researchers have tapped the brain waves of a paralyzed man unable to speak and turned what he intended to say into sentences in a medical first.
The device, created by a team at the University of California, San Francisco, analyzes brain waves to decode what a patient is trying to say and then displays the text on a computer screen.
It will take years of additional research but the study results, reported Wednesday, mark an important step toward one day restoring more natural communication for people who can't speak because of injury or illness.
'Most of us take for granted how easily we communicate through speech,' said Dr Edward Chang, a neurosurgeon at UCSF, who led the work.
'It's exciting to think we're at the very beginning of a new chapter, a new field' to ease the devastation of patients who lost that ability.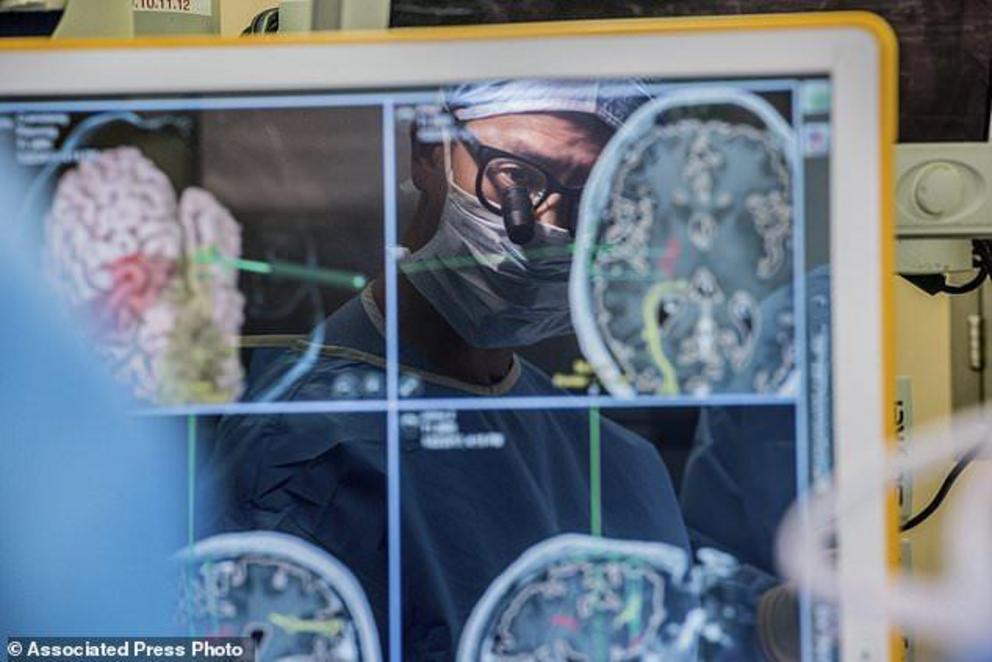 Researchers have created a device that uses brain waves to translate what paralyzed people who can't speak intend to say into sentences. Pictured: University of California, San Francisco, neurosurgeon Dr Edward Chang is reflected in a computer monitor displaying brain scans as he performs surgery at UCSF, 2017
For the rest of this article please go to source link below.