Worse than Monkeypox? Multiple cases of skin diseases following COVID-19 vaccination start appearing in the medical journals
More and more COVID-19 vaccine injuries are starting to make their way into the medical journals. Several recent published case studies focus on skin diseases, and we are publishing a few of them here today as a service to the public, since the corporate media will seldom, if ever, cover this news.
Since there is already a plan in place to promote a monkeypox outbreak as one of the next big "pandemics" (see: Plandemic II Launched to Keep Pandemic Funds Flowing to Big Pharma: MonkeyPox), it is important to document these existing skin diseases that are already occurring following the mass COVID-19 vaccination campaigns.
It would not surprise me one bit if the criminal government "health" agencies such as the FDA and CDC started publishing photos like you see in these studies and label them all as some new variant of "monkeypox" which would cause fear and panic in the public, when in fact these skin conditions are more likely COVID-19 vaccine side effects.
Five cases of new-onset pemphigus following vaccinations against coronavirus disease 2019
The Journal of Dermatology, August 2022
Abstract
Pemphigus is a group of blistering disorders characterized by the formation of intraepithelial blisters in skin and mucous membranes induced by the binding of circulating autoantibodies to intercellular adhesion molecules. The pathogenesis is complex and not fully understood; however, genetic predisposition and various triggers are widely accepted as key factors in pemphigus development. A few cases of new-onset pemphigus following coronavirus disease 2019 (COVID-19) vaccination have already been published. The present paper reports a total of two cases of pemphigus foliaceous and three cases of pemphigus vulgaris that occurred following vaccinations against COVID-19, with anamnestic, clinical, and diagnostic data collection suggesting assumptions over a possible causal correlation.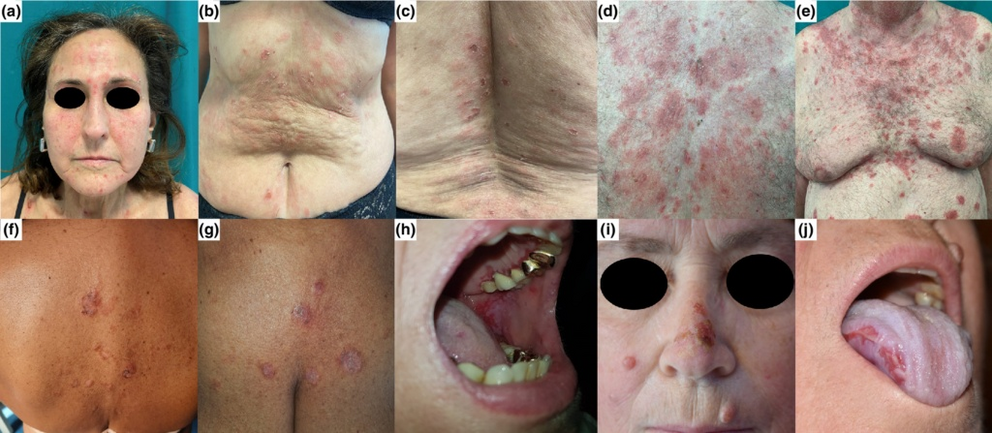 Clinical pictures of our cases. Case 1: scattered superficial blisters and erythematous patches with scaly erosions involving the face and lower trunk (a–c). Case 2: diffuse erythematous-squamous patches with scaly and crusted erosions involving the face and the trunk, following a seborrheic distribution (d, e). Case 3: a few erosive lesions, diffuse scales, and crusted erosions involving the trunk (f, g). Case 4: painful erosions on the gums and soft palate (h). Case 5: erosive lesions on the oral cavity, nose, right cheek, and abdomen (i, j).
Read the full study here.
For the rest of this article please go to source link below.