Unvaxxed teacher wins workers' compensation for psychological injury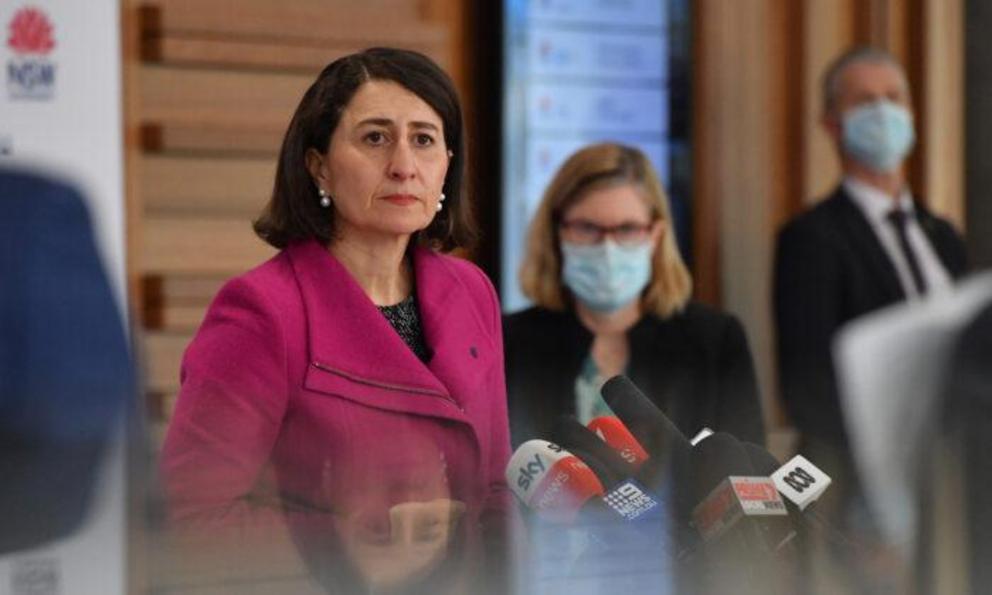 Former NSW Premier Gladys Berejiklian and Chief Health Officer Dr. Kerry Chant at a press conference to provide a COVID-19 update in Sydney, Australia, on Aug. 6, 2021. (AAP Image/Pool/Mick Tsikas)
Unvaxxed Teacher Wins Workers' Compensation for Psychological Injury
By Nina Nguyen
An Australian teacher terminated from her work after refusing to take a COVID-19 vaccine has won workers' compensation on the basis that she suffered psychological injury due to her employer's implementation of the government mandate.
The case is among only a handful of appeals about unfair dismissal caused by the COVID-19 vaccine mandate in Australia to be recognised by the court. The majority have been dismissed.
It was also one of the few cases where "psychological injury" was at the centre of the applicant's arguments against the mandate. Most other appeals cited concerns regarding the lawfulness of the vaccination mandate or the efficiency of the vaccine itself.
Courts found in most of these appeals, however, that the complainants failed to prove that their employer's disciplinary action was unreasonable.
The Case
According to a court document issued on Nov. 3 obtained by The Epoch Times, the Personal Injury Commission, which handled the case, ruled that former Canada Bay special education teacher Diane Dawking "sustained psychological injury" that arose "out of or in the course of her employment" with the New South Wales (NSW) Department of Education. It also said that "employment was the main contributing factor to such injury."
On Sept. 24, 2021, Dawking received a letter from her workplace, the Department of Education, that she must be double vaccinated by Nov. 8, 2021, otherwise be considered guilty of misconduct and liable for possible termination.
Dawking claimed that as a result of the mandate and her decision not to be fully vaccinated, she "started to suffer a number of symptoms, including helplessness and hopelessness, loss of interest in daily activities, loss of weight, sleep changes, anger and irritability, and other symptoms," according to court document.
She consulted from a psychologist who diagnosed her as suffering from "acute stress reactions disorder," which worsened over time as successive emails were received from her employer.
The psychologist noted that Dawking was fearful of taking the vaccine as she believed it would compromise her underlying medical condition, which included anaemia.
Additionally, Dawking submitted that, after being sacked on Nov. 8, she was unable to provide for her family and care for her sick husband.
She was certified as having no current work capacity from Sept. 9, 2021.
Her doctor said that employment was the main contributing factor to Dawking's injury due to the "constant coercion and discrimination to receive vaccine as a mandatory requirement, refusing Mrs Dawking's medical exemption, and possible threat to their employment with no support provided."
The Education Department argued that Dawking's distress was a result of the actions taken by the government, which introduced the Public Health Order—not the employer. It also said that the email alerting teacher of the vaccine mandate was "respectful" and "as comprehensive as was possible."
Further, the department said although Dawking had been working remotely for a time, by the time of these events, school was back. Hence, the decision to terminate Dawking's employment was "reasonable because of her unwillingness to physically attend at school" and failure to attest that she was vaccinated.
However, when asked why teachers who weren't doubled vaxxed couldn't continue working remotely, the department's representative said it was not a decision that was within his authority, and referred back to the Public Health Order.
He couldn't answer when asked why employees working in other areas, such as curriculum development were also required to be double vaccinated even though they were working from home. He also said he was not aware if any opportunity was given to the couple of hundred unvaccinated teachers to work in the area of policy development.
"The applicant correctly submits that, rather than there being a problem with the Public Health Order issued by the government, it was the implementation of that order by the respondent that was significant in her case, and which was the cause of her injury," the commission said.
Dawking's lawyer, David McCabe of McCabe Partners Lawyers, said in a statement to The Epoch Times:
"The decision to terminate unvaccinated teachers was unreasonable, when they could have continued on working remotely, redeployed these teachers into non-teaching roles, that the suspension of employment may have been better than cessation of teachers employment, or the provision of special leave for unvaccinated teachers."