Israel reengineers Palestinian society with draconian laws
Israel reengineers Palestinian society via draconian laws
Israel's new draconian laws have been criticized by both Israeli and Palestinian non-governmental organizations
By News Desk - September 04 2022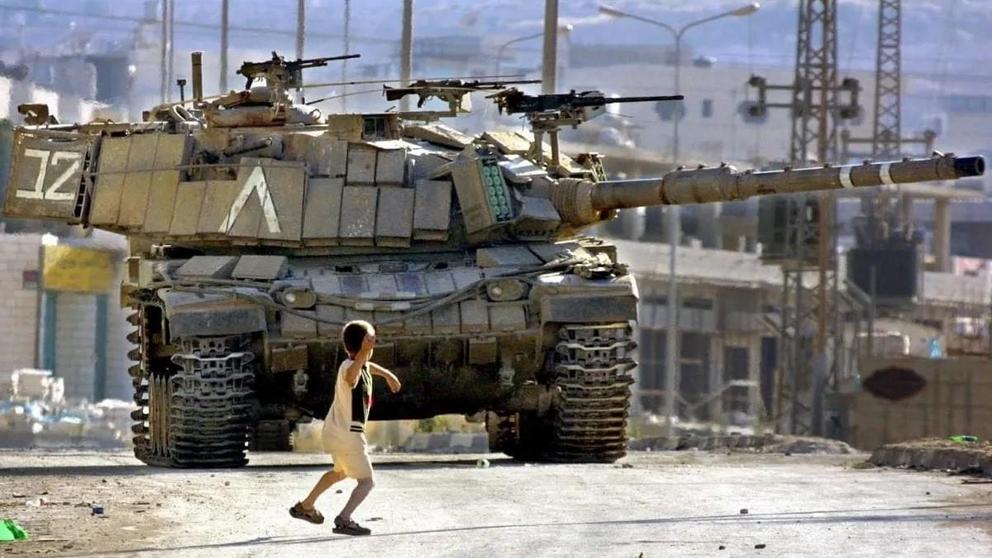 FILE – A Palestinian child throws stones at an Israeli army tank, much like the iconic image of Faris Odeh from October 2000, during the second Intifada. (Photo credit: Musa Al-Shaer/AFP)
Israel is set to implement new draconian laws on 5 September, which will force foreigners to declare any intimate relationships with Palestinians within the first 30 days of arrival.
The 97-page list of rules will limit outside contact with Palestinians, regulate the number of foreigners admitted to Palestinian universities, and place restrictions on foreigners working and living in Palestine.
The director of the Israeli non-governmental organization HaMoked, Jessica Montell, has criticized the new laws, arguing that "this is about the demographic engineering of Palestinian society and isolating Palestinian society from the outside world."
"They make it much more difficult for people to come and work in Palestinian institutions, volunteer, invest, teach and study," she added.
Initially, the bill was announced in February 2022 but was halted after complaints to Israel's Supreme Court.
The new restrictions will force foreigners to declare their love relationship with a Palestinian to the Israeli Defense Ministry and in the case of marriage, foreigners are forced to leave after two years for a period of 6 months.
Foreigners who wish to visit the West Bank will no longer obtain a visa upon arrival, and will instead be forced to apply to the Israeli Defense Ministry 45 days in advance. This also includes volunteers and workers.
Members of the Palestinian diaspora will also no longer be able to visit their homes and families via Ben Gurion airport in Tel Aviv.
Meanwhile, Israel will also place new restrictions on universities, putting a quota of 150 student visas and 100 foreign lecturers.
For the rest of this article please go to source link below.