GMO wheat trials to begin in Europe
Due to popularity of gluten-free food items, and the rise of digestive disorders related to wheat allergies, much of the public believes that our modern wheat supplies are grown from genetically modified seeds. But this is not the case. There are currently no approved genetically modified varieties of wheat in the market place.
That may soon be changing in Europe, however, as the Rothamsted Research group working in collaboration with researchers from the University of Essex and Lancaster University has reportedly received approval in the U.K. to begin trials of genetically modified wheat. (Source.)
Peter Melchett of the UK Soil Association that supports organic farming said:
We do not believe that this trial should go ahead. It is vital that the trial crop does not escape from the trial site given the inclusion of antibiotic resistance and herbicide tolerance genes, but that is exactly what has happened on multiple occasions with GM wheat trials elsewhere.
It has been proven that there is gene drift from pollen even from GMO test fields to existing non-GMO and organic field farms. There are also seed mix-ups that can occur within seed storage facilities. Organic and non-GMO farmers have shown evidence that it is impossible to maintain coexistence without contamination from GMO crops. (Source)
For example, Switzerland, international corporate home of Monsanto's chief GMO rival Syngenta, will not allow open field GMO testing. So Syngenta uses the United States and other areas for their open field trials with empty lots and fields leased locally, and usually unknown to non-GMO farmers in the same area.
GMO Wheat Has a Negative Economic Impact on Wheat Exports out of the U.S.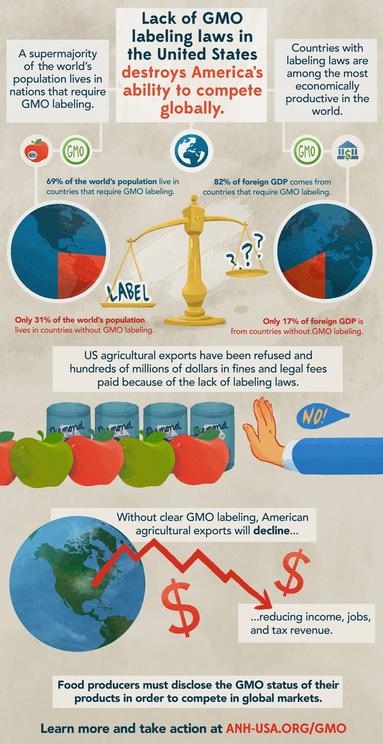 An Oregon wheat farmer's unexpected discovery of GMO contamination from what is believed to have been GMO wheat open field testing ten years earlier created a halt of wheat exports from the U.S. to several countries back in 2013, harming U.S. wheat exports that year. (Source.)
Asian and EU nations that have zero tolerance for GMO won't allow GMO traces of grain imports due to their labeling laws, even if only suspected of genetically altered wheat and other grains or crops, which had led to refusing it instead of purchasing it.
In other words, GMO crops have an economic impact on non-GMO and organic crop exporters in the USA, yet GMO seed producers refuse to produce mapping of their testing fields and the federal government protects their secrecy. (Source)
This was a major flap at the time, resulting in law suits initiated by conventional and organic farmer groups against Monsanto for damages suffered by GMO grains discovered in their non-GMO exports of wheat that excluded them from exporting their crops. And since there is no commercially offered GMO wheat in the USA yet, these were from field tests only. (Source)
GMO Crops Worldwide: A Serious Health Impact
Despite the mainstream media's refusal to seriously acknowledge the growing sentiment against GMO agriculture, many unbiased independent scientists attest that GMO agriculture threatens our health and the future of food itself.
It's not only the dangers of genetic damage to animal and human life, but many GMO crops were created mostly for the purpose of withstanding toxic pesticides and herbicides that the GMO people create themselves. One such herbicide is the world's top seller, Roundup.
Glyphoste is the active ingredient of Roundup, and as you may now know, it has been declared as a probable carcinogenic by a committee of international independent scientists commissioned by the WHO (World Health Organization).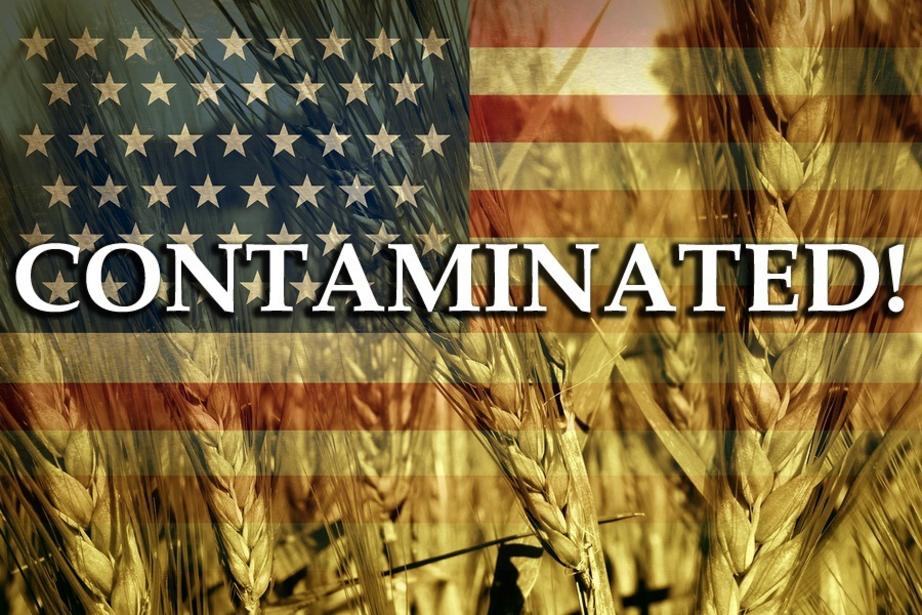 Is it Just the Gluten, or is There More to Gluten Sensitivity?
There is a growing suspicion that perhaps glyphosate is more responsible for the growing epidemic of gluten sensitivity than simply gluten. Rather than simply blaming gluten for digestive issues and gut inflammation completely and creating a whole new food industry of gluten free products, which can be unhealthy themselves, there is more evidence that the culprit for gut inflammation responses to wheat and grains is largely due to glyphosate and the gluten that's common in harmfully processed breads and baked goods.
A major reason Monsanto created Roundup Ready GMO crops is to withstand their herbicides without being destroyed themselves. Genetically engineered crops are meant to absorb glyphosate completely in order to prevent Roundup herbicides from killing them while they suffocate weeds, that's all part of the design.
So those who consume non-organic corn or soy products alone, which are 90 percent plus GMO and are ubiquitous in processed and snack foods, are taking in the bulk of glyphosote herbicide toxicity.
Add factory farming livestock that are used for non-organic milk and dairy and slaughtered for most meat products as glyphosate carriers. They are fed GMO soy and/or corn meal from crops that are filled with glyphosate.
Consider that French molecular biologist Gilles-Éric Seralini and other independent researchers have determined that other adjunct booster chemicals in glyphosate herbicides create an even more toxic synergy than the active ingredient of glyphosate alone. (Study text)
They were able to isolate those other ingredients with state of the art chemical analysis lab equipment. Those ingredients can be protected by so called "Trade Secrets Law". Roundup's other ingredients were never divulged to the EPA. So the EPA had allowed glyphosate herbicides claiming glyphosate was actually safe.
A class action suit has been initiated by cancer victims who dealt directly with applying Roundup claim glyphosate in that product caused their cancer. From this some evidence that an EPA top official suppressed EPA scientists from disclosing glyphosate dangers has emerged.
A letter from a deceased former EPA official whistle blower has created an attempt by plaintiff lawyers to get more documentation of her claims. Questions about EPA-Monsanto collusion raised in cancer lawsuits.
But wait, the topic is wheat. And wheat is not genetically modified to withstand Roundup or other glyphosate herbicides yet – right?
Commercially Grown Wheat and Other Grains are Desiccated With Roundup
To desiccate means to dry up or completely remove the moisture. A lot of grains, especially wheat and oats grown in the upper Midwestern and northwest states as well as Canada are confronted with short harvesting times as winter sets in.
A few decades ago grain growers in Scotland discovered they could shorten harvest times by killing and drying the wheat before winter set in to possibly ruin the crop. They used Roundup for desiccating grain crops since so far there are no Roundup Ready GMO grain seeds and those crops do not resist Roundup's glyphosate. This has become common in North America lately.
Use of Glyphosate Correlates with Rise in Gluten Sensitive Diseases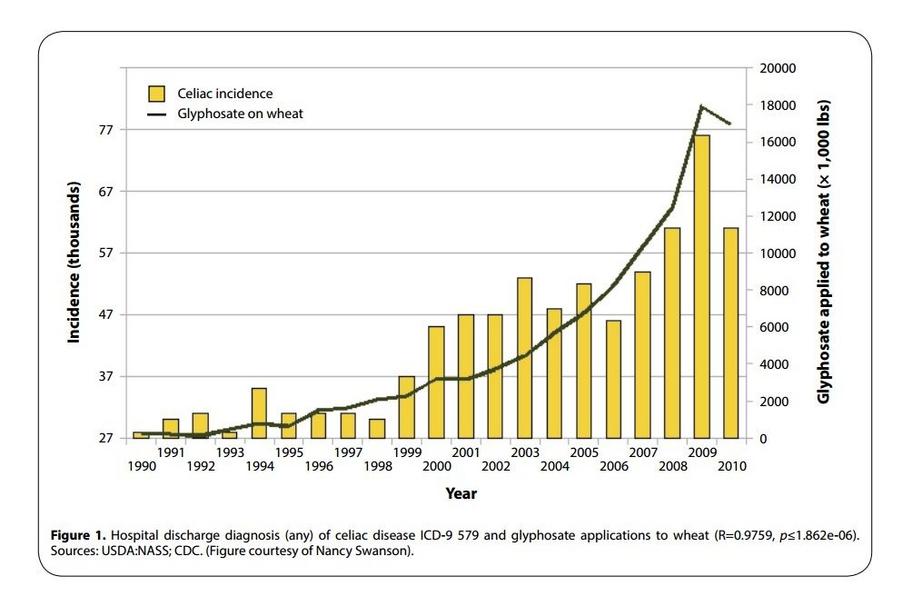 that make them more effectively absorbed contribute to the rise in chronic gut and bowel inflammatory diseases. This may be another link to the gluten source of intestinal issues. According to independent scientists.
They say glyphosate binds to gluten in grains, and glyphosate is known to cause intestinal irritation, damage, and gut flora problems. Here is a timeline of Celiac incidence graphed against incidence of desiccating wheat with glyphosate herbicides. A similar graph exists with glyphosate herbicides and autism.
And now we have trace amounts of glyphosate appearing in organic grains. The amounts are small, but they shouldn't be there at all. That's what international importers of our grains declare, and they're getting stricter about that.
It's possible that irrigation streams and rainwater may be responsible for spreading elements of glyphosate. Another possibility is spraying from aircraft could be affecting organic farms near GMO areas. Organic barley has been the most affected. This even threatens our domestic organic beer industry. (Source)
Dr. Don Huber, Professor Emeritus, Plant Pathology of Purdue University, has been attacked by GMO industry hacks and academic researchers who depend on GMO industry funding for his critical view of GMOs and glyphosate's affect on plant foods, the soil they inhabit, and the farm animals fed with GMO corn and soy meal.
Dr. Huber's open letter appeal to investigate GMO farming further was sent to the USDA head at the time, Tom Vilsack. It was ignored. Then the attacks, even from Purdue University, began. Coincidence?
Dr. Huber told Dr. Joseph Mercola in an interview that while independent testing has confirmed the chronic toxicity of GMOs and Roundup, which the industry denies and decries, they have not provided proof of their long term safety. Dr. Huber stated:
When the EPA employed the term 'substantially equivalent,' it gave the chemical companies essentially a waiver on doing any of the safety tests. The only thing that they've ever tested for is acute toxicity. Well, we know that glyphosate, for instance, isn't an acute toxin. It's a serious chronic toxin. [Emphasis added] That's been well-established in peer-reviewed scientific articles. We have more of those coming along all the time. There is no question that it's a chronic toxin. (Source)
Dr. Stephanie Seneff and Dr. Anthony Samsel of the Massachusetts Institute of Technology (MIT) have focused on glyphosate's environmental, animal, and human damage extensively. They have examined several independent lab reports and done epidemiological studies, of which the above graph is one example, with similar graphs for autism rates.
They released a statement that corroborates Dr. Huber's remarks of chronic toxicity leading to a toxic overload from daily food consumption of glyphosate treated crops, whether GMO or conventional farmers' desiccating: (Source)
It's just that you don't get killed or die today from it; you have to suffer through the process of gluten intolerance, leaky gut, Crohn's, Alzheimer's, autism, or any of those diseases that are related to the health of your gut, which we're seeing now on an epidemic scale in our society.
Activated charcoal is a possible remedy to detox from glyphosate in the body. Also, this short video is worth viewing for understanding how to employ niacin as part of the detox in lieu of saunas.
How the FDA and USDA Allowed Industry Demands to Ruin Bread and Pasta
Chemically bleaching flour is banned in Europe, where so far nutritional food has some value. There, white flour is created by letting the crushed grains age in the open air and sun for several days. No chemicals are used.
Elsewhere, including here in the USA, even many so-called whole grain breads have some chemically bleached white flour in them. Before it becomes flour, wheat and other non-organic factory farmed grains are treated with fungicides, pesticides, and insecticides from seedling to storage. A really bad start!
Wheat itself was agriculturally hybrid naturally to increase its gluten content, satisfying mass producing bakery demands for an easier, gummier, and more pliable dough to deal with for mass production.
Then the highly nutritious bran and the husk with fiber are removed leaving only the light yellow endosperm, which is virtually all starch with very little nutritional value and a high glycemic index rating.
In order to bypass the aging process, add shelf life, and get that clean white color, the endosperm is crushed and treated with chlorides to get it white instantly. A byproduct of this process is alloxan, which is used to induce diabetes in lab animals for medical testing!
Never mind looking for that on bread labels. Alloxan is a byproduct of the bleaching process, not an ingredient. To avoid it, simply put any bread back on the shelf that includes white flour unless you're in Europe or it specifically states unbleached white flour.
And now for the clincher. In order to make the flour dough even easier to use by large scale commercial bakeries, they bromate the flour by adding potassium bromate. In addition to blocking iodine that your thyroid needs to fully function as control center for your endocrine (hormones) system, potassium bromate is a carcinogenic.