Facebook and Zuckerberg under scrutiny from several governments
Facebook - the pervasive social media platform - and it's founder Mark Zuckerberg, are under increased criticism over how the company handles the data it collects of its over 2.13 billion users.
U.S. and British politicians are saying that Zuckerberg is acting with impunity and needs to answer to their governments as to whether he and his company have violated any data breach laws upon Friday's discovery that political data analytics firm Cambridge Analytica (CA), which worked for Donald Trump's 2016 presidential campaign, violated Facebook privacy policies and mined user profiles for information then sold it to a third party.
Democratic Senator Amy Klobuchar of Minnesota says that "Mark Zuckerberg needs to testify before Senate Judiciary." Klobuchar adds, "It's clear these platforms can't police themselves. I've called for more transparency and accountability for online political ads."
The highest-ranking Democrat on the House Intelligence Committee, Adam Schiff, agrees, telling the Washington Post, "I think it would be beneficial to have him come testify before the appropriate oversight committees. … And not just Mark but the other CEOs of the other major companies that operate in this space."
It's suspected that CA illicitly mined information from approximately 50 million user profiles.
Facebook immediately suspended CA and its parent company Strategic Communications Laboratories (SCL) from using the social media company last Friday.
Florida Senator Marco Rubio said in an interview yesterday that he felt technology companies are behaving as though they are "above" regulations.
"I think another part about it is sometimes these companies grow so fast and get so much good press, they get up high on themselves that they start to think that perhaps they're above sort of the rules that apply to everybody else," Rubio said.
Cambridge Analytica has been broadly associated with helping Donald Trump win the 2016 US presidential election.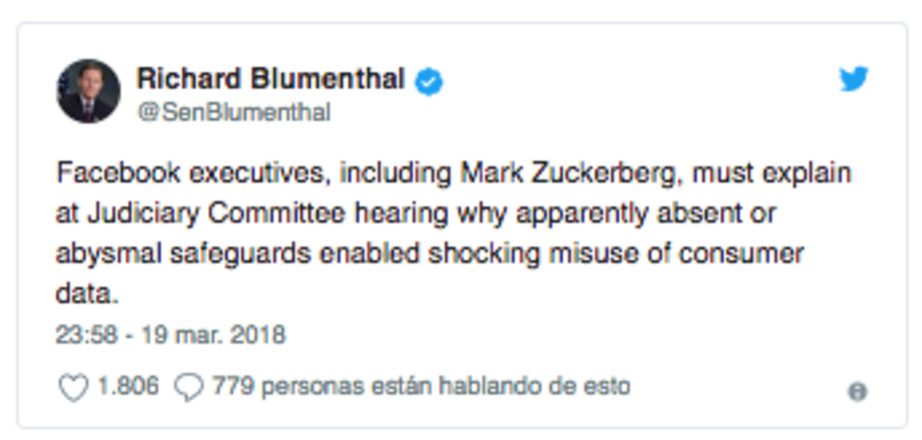 British parliament member, Damian Collins, who accused CA chief executive, Alexander Nix, of "deliberately misleading" a parliamentary committee last month by denying his company harvested Facebook profiles for information said he's going to call Zuckerberg to testify before the Digital, Culture, Media and Sport (DCMS) regarding this scandal.
"I will be writing to Mark Zuckerberg asking that either he or another senior executive from the company appear to give evidence in front of the committee as part our inquiry," says Collins.
Former National Security Agency contractor, Edward Snowden tweeted of the affair: "Facebook makes their money by exploiting and selling intimate details about the private lives of millions, far beyond the scant details you voluntarily post. … They are not victims. They are accomplices."
With news about the compromise of the Facebook user's profile information, the company's stock price took a 6.77 percent plunge today and Zuckerberg's personal worth fell by $5.1 billion, bumping him from fifth to the seventh richest person in the world.