Check out the schedule for The Greater Reset!
With less than two weeks until the launch of the 2nd Activation, it's time to share the schedule!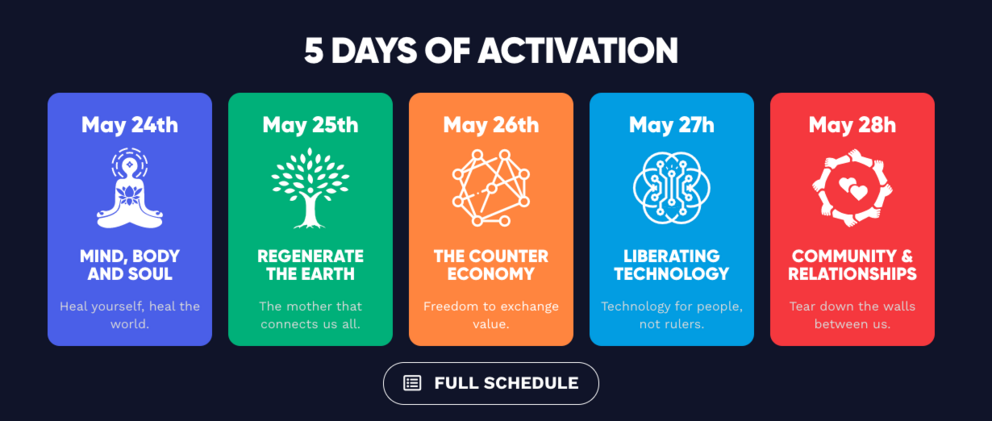 From Monday May 24th to Friday the 28th we will gather around the world as we watch The Greater Reset Activation together, in community. Over 5 days you will be exposed to solutions in the areas of health, permaculture, counter-economics, technology, and community building.

Check out the FULL schedule right here! This includes all 5 days of The Greater Reset which will stream for FREE on our website! (Next week we will be updating the schedule with details on our paid workshop day on Saturday the 29th!)
We have also added music to the event this time around! That's right, we will end Friday night with empowering music from our very own John Bush and Derrick Broze (performing as 33)! We will also be blessed with music from Jordan Page and Houston's So/Below!
The People's Reset & The World Wide Watch Parties -
If you can't make either of the in-person events host or join a watch party!!! See if there is anything happening in your area! We want this to truly be an international event where people gather in community to talk solutions. We highly encourage you to join or create a Watch Party in your area!

Want to show the world how you have been ACTIVATED?

We have launched the People's Reset contest where we are asking you to send in a 3-5 minute video showcasing the changes you have made in your life! Visit the People's Reset for instructions on how to join and potentially win $500 in Bitcoin Cash!

Want to join us in person??

We have 2 official events taking place, one in Mexico and one in Texas!

The Zihua Getaway is taking place at the Salon Estevens in Zihuatanejo, Mexico only minutes from the beaches! In addition to watching the Greater Reset stream in a packed room with your fellow human beings there will also be a few people that will present from the stage including Derrick Broze, Ramiro Romani, Lainie Liberti and son Miro Siegel, Johnny Schaeffer (Houston Freedom Cell), and potentially Ryan Cristian of The Last American Vagabond!

There will be yoga, beach time, dinner outings, and an end of event party on Saturday!
The other official event is taking place in the beautiful Central Texas. Click here for details on the Texas event. Speakers present at the Central Texas event include Rebecca Powers, John Bush, and Commander Dale Brown!
If you join us in Texas you will have the opportunity to join in freedom socials, music, and the Agora market!

Thanks for the support!

- The Greater Reset Activation Team -

A special thanks to our sponsors...

http://bitcoin.com - Your one stop shop for all things crypto! Whether you need a secure wallet, a crypto exchange, or the latest crypto news, bitcoin.com has you covered.

http://getautonomy.info - Led by Navigator Richard Grove, Autonomy is a 13 week course to help you live a life of excellence.

http://www.innoscale.net/ - We trust Innoscale to host The Greater Reset site. you can trust them too for your personal or business cloud hosting needs.

http://flote.app - A social network of like-minded individuals focused on content freedom! You can share whatever flotes your boat!

Learn more and sign up for the workshop DEMYSTIFYING CRYPTO: How to Buy, HODL, & Multiply Your Cryptocurrency - http://bit.ly/2P7xqR0

(The Greater Reset gets a cut of ticket sales when you sign up with this link)