Video: #Yes, it's a "Killer Vaccine": Michel Chossudovsky
We are at the crossroads of one of the most serious crises in World history. We are living history, yet our understanding of the sequence of events since January 2020 has been blurred.
Worldwide, people have been misled both by their governments and the media as to the causes and devastating consequences of the Covid-19 "pandemic".
The unspoken truth is that the novel coronavirus provides a pretext and a justification to powerful financial interests and corrupt politicians to precipitate the entire World into a spiral of mass unemployment, bankruptcy, extreme poverty and despair.
***
Video: Michel Chossudovsky provides a broad picture of the ongoing crisis which is destroying people's lives Worldwide.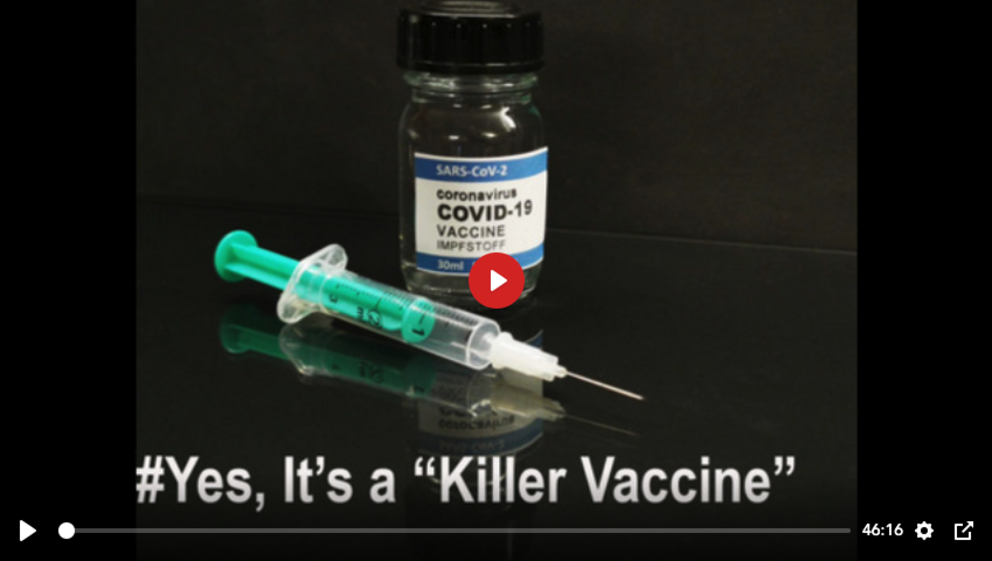 To view the video on Bitchute, enter a comment, click the link below:
https://www.bitchute.com/video/uBzx3eYozeXz/
Spread the Word. Forward this video.
***
To consult Michel Chossudovsky's E-Book (Ten Chapters), click below:
The 2020-21 Worldwide Corona Crisis: Destroying Civil Society, Engineered Economic Depression, Global Coup d'État and the "Great Reset"
See also:
The "Killer Vaccine" Worldwide. 7.9 Billion People
The WHO Confirms that the Covid-19 PCR Test is Flawed: Estimates of "Positive Cases" are Meaningless. The Lockdown Has No Scientific Basis
The Fake "Delta Variant" and the Fourth Wave: Another Lockdown? Upcoming Financial Crash? Worldwide Economic and Social Sabotage?
Related Articles
Video: The 2020-21 Worldwide Corona Crisis
29 April 2021
Video: COVID-19. The Unspoken Truth. The Most Serious Global Crisis in Modern History
20 June 2020
Video: The Corona Crisis and the Engineered Destabilization of the Global Economy. Michel Chossudovsky.
27 May 2021
The original source of this article is Global Research
Copyright © Prof Michel Chossudovsky, Global Research, 2021