Aussie Doctors put on notice re covid jab deaths
Extraordinary moment a doctor berates colleagues over Covid vaccine mandates and accuses the nation's top doctor of 'lying' - as authorities move to suspend his medical licence
GP may lose licence following his anti-vaccine outburst at medical conference
Dr William Bay shouted that chief health officer was 'lying' and 'gaslighting'
After yelling at doctors they had been 'warned' Dr Bay was escorted outside
He heads anti-vaccine protest group and is rallying support to keep his licence
By David Southwell For Daily Mail Australia
A doctor was thrown out of a medical conference after filming himself berating attendees for endorsing vaccine mandates to combat Covid-19.
Dr William Bay, who heads the anti-mandate group Queensland People's Protest, live-streamed his extraordinary tirade at an Australian Medical Association conference in Sydney last month and it was posted online on Sunday.
Dr Bay stunned his colleagues by interrupting the meeting by haranguing Australia's Chief Medical Officer Paul Kelly and accusing him of 'lying'.
'I am here today to ask you to join with the people of Australia and stop forcing these vaccines on people who are getting killed by them,' Dr Bay shouts.
'Professor Paul Kelly is liar and is gaslighting all of you.'
His claims are at odds with much of Australia and the world's medical authorities who say Covid vaccines are the best protection against serious symptoms of the virus.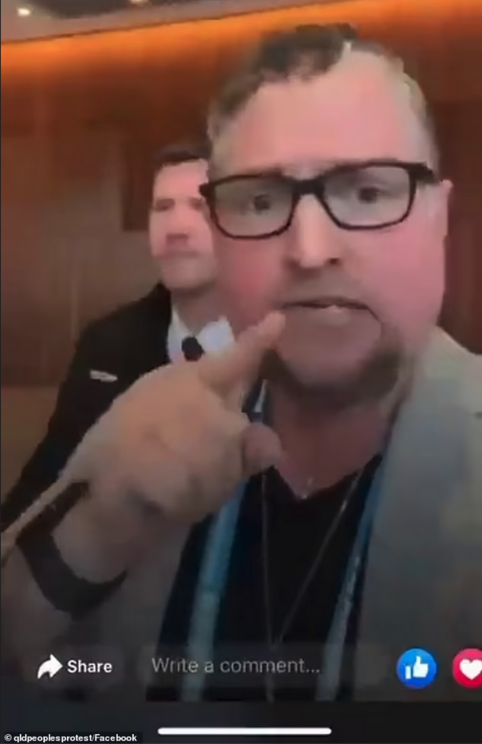 Dr William Bay live-streamed his extraordinary outburst against vaccines and Australia chief medical officer Paul Kelly during a medical conference in Sydney
Footage shows many attendees at the conference got up from their seats and began leaving as Dr Bay began shouting even louder.
'All GPs, all doctors of Australia you are on notice by the people of Queensland,' he yells.
For the rest of this article please go to source link below.
Video can be accessed at source link below.