The FBI organised the Malcolm X killing
- as two men found innocent due to FBI corruption
Two men wrongly convicted for killing Malcolm X in 1965 are officially exonerated: New investigation revealed Hoover COVERED UP fact that trial witnesses were FBI informants
A Manhattan judge on Thursday formally dismissed convictions of Muhammad Aziz, 83, and Khalil Islam, who died in 2009 aged 74: both were found guilty of Malcolm X's 1965 assassination in Harlem
Aziz spent 22 years in prison before he was released on parole in 1985; Islam was released in 1987
Both men had maintained their innocence for decades and their stories were the subject of numerous books and articles, plus a six-part Netflix documentary released last year, Who Killed Malcolm X?
The FBI and New York Police Department had evidence of Aziz's and Islam's innocence within hours but ignored and suppressed it, a lawyer for both men said
Prosecutors and defendants' lawyers agreed that new evidences suggested they played no part in the murder of the civil rights leader
FBI files showed that the late FBI Director J. Edgar Hoover ordered agents to tell witnesses not to reveal that they were informants when talking with police and prosecutors
One FBI report from September 28, 1965, even contains a description of the man whom some experts have concluded was probably the killer who wielded a shotgun — William Bradley, who died in 2018
Aziz said in a statement he was victimized by the criminal justice system, adding: 'I do not need this court, these prosecutors, or a piece of paper to tell me I am innocent'
Experts believe that Aziz and Islam's relatives could seek $1 million each in damages for the wrongful conviction
By SNEJANA FARBEROV and HARRIET ALEXANDER FOR DAILYMAIL.COM
Malcolm X speaks to reporters in Washington, D.C., on May 16, 1963. He was gunned down aged 39 on February 21, 1965 inside Harlem's Audubon Ballroom during a rally
More than a half century after the assassination of Malcolm X, two of his convicted killers were formally exonerated on Thursday after years of doubt about who was responsible for the civil rights icon's death.
Manhattan judge Ellen Biben dismissed the convictions of Muhammad Aziz and the late Khalil Islam, after prosecutors and the men's lawyers said a renewed investigation found new evidence that they were not involved with the killing and determined that authorities withheld some of what they knew.
The investigation was launched by Cy Vance, the Manhattan District Attorney, following the broadcast of a six-part Netflix documentary last year which sparked renewed focus on the case.
Vance's conclusion that the conviction should be quashed is likely to be one of the most high-profile final acts for him as DA: he announced in March that he would retire at the end of this year, and not seek re-election after 12 years in office.
Vance, 66, apologized to Aziz in court on Thursday, and shook his hand.
FBI files showed that the late FBI Director J. Edgar Hoover ordered agents to tell witnesses not to reveal that they were informants when talking with police and prosecutors.
'Many of those documents were exculpatory. None of them were disclosed to the defense,' Vance told the court on Thursday.
'Without these files, it is clear these men did not receive a fair trial, and their convictions must be vacated.
'Moreover, under the unique circumstances presented by a 55-year-old case, there can be no retrial on any of the charges contained in the indictment. Therefore, the People believe the indictment against Mr. Aziz and Mr. Islam should be dismissed.'
Aziz told the court: 'The events that led to my exoneration should never have occurred.
'I am an 83-year-old man who was victimized by the criminal justice system.'
He and Islam, who maintained their innocence from the start in the 1965 killing at Harlem's Audubon Ballroom, were paroled in the 1980s.
Islam died in 2009, aged 74.
'While I do not need a court, prosecutors, or a piece of paper to tell me I am innocent, I am glad that my family, my friends, and the attorneys who have worked and supported me all these years are finally seeing the truth we have all known, officially recognized,' Aziz said in a statement released by his attorney.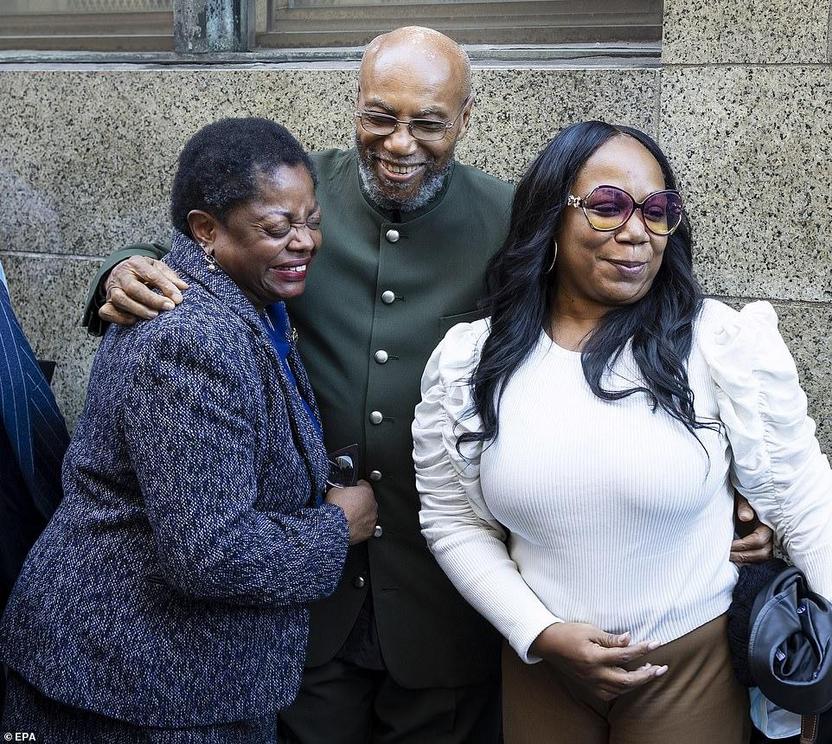 Muhammad Aziz stands outside the courthouse after his conviction and that of the late Khalil Islam in the killing of Malcolm X was vacated on Thursday
For the rest of this article please go to source link below.