Project Veritas exposing Pfizer - part 2
Heroic handy work by our talented videographer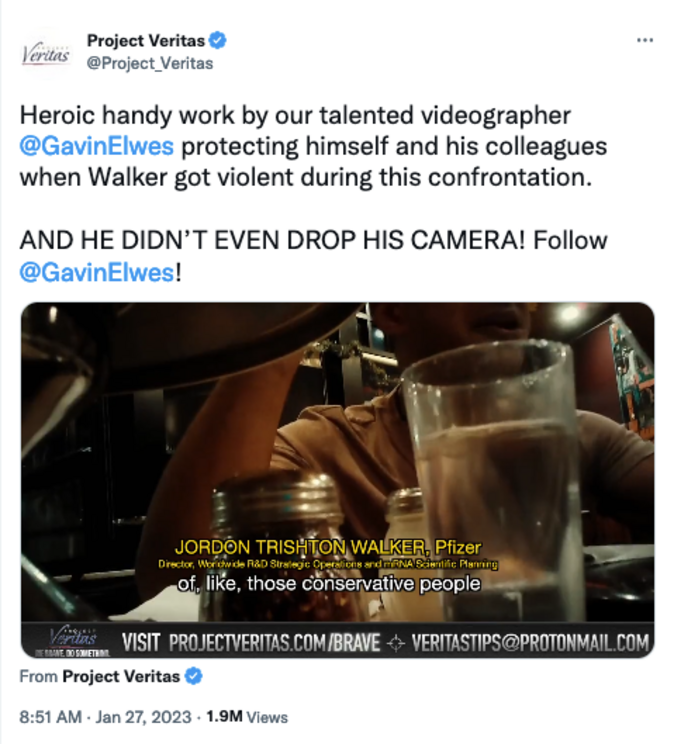 protecting himself and his colleagues when Walker got violent during this confrontation. AND HE DIDN'T EVEN DROP HIS CAMERA! Follow
As you've likely seen, Project Veritas released its most watched video of all time last night.
A Pfizer Director of Research and Development, Jordon Trishton Walker, was recorded detailing the pharma company's plan to mutate COVID to preemptively develop new vaccines.
He calls it "Directed Evolution," even though many scientific experts are adamant it is, in their opinion, Gain-of-Function research (which increases a virus' potency as a result of lab experiments).
Project Veritas founder, James O'Keefe, caught up with Walker to ask him questions about what he said…and quite a scene unfolded soon after.
You can watch this INTENSELY WILD interaction by CLICKING HERE.
Wow. Just wow.
This is the first time in Project Veritas' history when a subject of our investigation reacted with VIOLENCE.
Thankfully, no one got hurt.
Walker made a few more admissions in this new video, which should put to rest ANY DOUBTS that he does, in fact, work for Pfizer.
Stay tuned…additional developments may come out at any moment…
*CLICK HERE TO TWEET THE VIDEO*
Be Brave,
Project Veritas Team