Plague of Corruption - Dr Judy Mikovits
PRE-ORDER HERE: SKYHORSE PUBLISHING
Plague of Corruption sold out immediately after it's release date on 4.14.20.
It is currently available only as a Kindle eBook on Amazon.
Updates on availability will be posted here and on Dr. Judy's NEW TWITTER account: @DrJudyAMikovits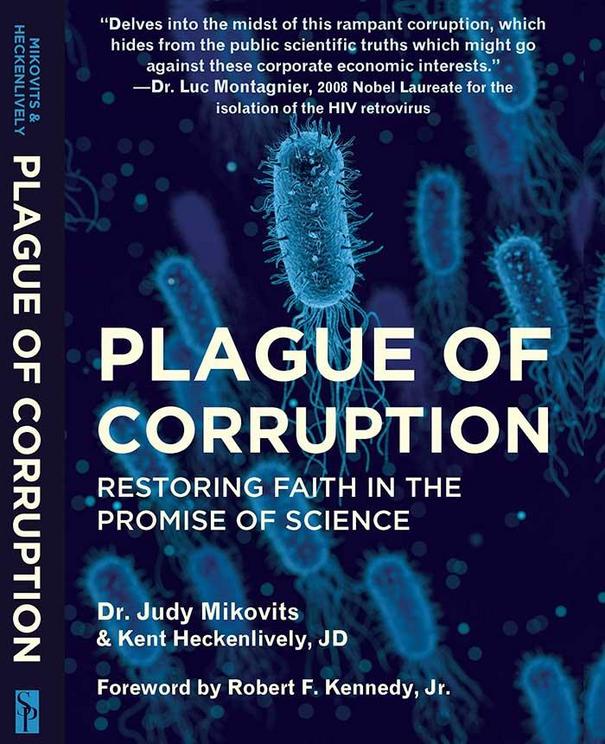 Excerpt from Robert F. Kennedy, Jr.'s Foreword
Robert F. Kennedy, Jr.
Moral Courage and Our Common Future
By Robert F. Kennedy, Jr.
"And yet, it moves!" Galileo whispered those defiant words in 1615 as he left the Roman Inquisition tribunal before which he repudiated his theory that the earth—the immovable center of the Universe according to contemporary orthodoxy— revolves around the sun. Had he not recanted; his life was forfeit.
We like to think of Galileo's struggles as the quaint artifact of a dark, ignorant, and tyrannical era
where individuals challenged government-anointed superstitions only at grave personal risk. Dr. Judy Mikovits' story shows that stubborn orthodoxies anointed by pharmaceutical companies and corrupt government regulators to protect power and profits remain a dominant force in science and politics.
By any standard, Dr. Judy Mikovits was among the most skilled scientists of her generation.
She entered professional science from the University of Virginia with a B.A. degree in Chemistry on June 10, 1980 as a protein chemist for the National Cancer Institute (NCI) working on a life-saving project to purify interferon.
The quality of her work and her reliable flashes of genius soon propelled her to the apex of the male-dominated world of scientific research. At NCI, Mikovits began what would become a twenty-year collaboration with Dr. Frank Ruscetti, a pioneer in the field of human retrovirology. While heading up the lab of Robert Gallo in 1977, Rusectti made scientific history by co-discovering with Bernie Poiesz, the first human retrovirus, HTLV-1 (human T-cell leukemia virus).
A retrovirus is a "stealth virus" that, like HIV, enters the host without alerting the immune systems. It may then laydormant for years without causing harm. Before killing a person, a retrovirus will usually destroy their immune system. As a result, many retroviruses cause cancer. With an escalating under- standing of retrovirus behavior, the Ruscetti/ Mikovits collaboration and Mikovits award-winning PhD thesis from George Washington University in 1991, changed the paradigm of HIV-AIDS treatment, turning the disease from a death sentence into a manageable condition.
From the outset, the most daunting obstacle to Mikovits' career-advancement was her scientific integrity. She always placed it ahead of personal ambition. The first in her blue-collar family to attend university, Judy Mikovits never meant to wade into a public health turmoil. She never considered herself a renegade or revolutionary. Judy's relatives mainly worked in government or law enforcement. They believed in bedrock American principles of hard work, respect for authority, and above all, telling the truth. That backdrop made it impossible for her to abandon her high natal standards of honesty and integrity even when they became a hindrance.
After leaving NIH, she worked a stint for Upjohn—leading a project to prove the safety of the company's blockbuster Bovine Growth Hormone. When Mikovits discovered the company's formula could cause precancerous changes in human cell cultures, she refused direct orders from her boss to hide her discoveries. Mikovits' revelation suggested that the ubiquitous presence of the hormone in milk could lead to breast cancer in women who drank it. Her refusal to back down precipitated her departure from Upjohn and her return to NIH and graduate school. Judy's war on BGH eventually led to Upjohn abandoning the product.
In 2009, now in academia, Mikovits and Ruscetti, who was still at NCI, led a team that discovered a strong association between a previously unknown retro- virus and myalgic encephalomyelitis, commonly known as chronic fatigue syndrome (ME/CFS). Predictably, the retrovirus was also linked to certain blood cancers. Collaborators had named it Xenotropic Murine Leukemia Related Virus (XMRV), when they first detected in DNA sequences in prostate Cancer a few years earlier.
The medical community had dealt with Chronic Fatigue Syndrome, which strikes mostly women, in bad faith since its appearance in the mid-1980s. The medical establishment derided ME/CFS as "yuppie flu" and attributed it to the inherent psychological fragility of career women pursuing professions in high pressure corporate ecosystems. Mikovits found evidence for the retrovirus in approximately 67 percent of women afflicted with ME/CFS, and in a little less than 4 per- cent of the healthy population.
On October 8, 2009, Mikovits and Ruscetti published their explosive findings in the Journal of Science, describing the first isolation of the recently discovered retrovirus, XMRV, and its association to ME/CFS. Her revelation about ME/CFS immediately triggered angry reaction from jealous cancer power centers, stubborn; resistant to science that attributed cancer and neuroimmune diseases to viruses…
PLAGUE OF CORRUPTION
Restoring Faith in the Promise of Science
Recounting her nearly four decades in science, including her collaboration of more than thirty-five years with Dr. Frank Ruscetti, one of the founders of the field of human retrovirology, this is a behind the scenes look at the issues and egos which will determine the future health of humanity.
Dr. Judy Mikovits is a modern-day Rosalind Franklin, a brilliant researcher shaking up the old boys' club of science with her ground-breaking discoveries. And like many women who have trespassed into the world of men, she uncovered decades old secrets that many would prefer to stay buried.
From her doctoral thesis, which changed the treatment of HIV-AIDS, saving the lives of millions, including basketball great, Magic Johnson, to her spectacular discovery of a new family of human retroviruses, and her latest research which points to a new golden age of health, Dr. Mikovits has always been on the leading edge of science.
With the brilliant wit one might expect if Erin Brockovich had a doctorate in molecular biology, Dr. Mikovits has seen the best and worst of science. When she was part of the research community which turned HIV-AIDS from a fatal disease into a manageable one she saw science at its best. But when her investigations questioned whether the use of animal tissue in medical research were unleashing devastating plagues of chronic diseases she saw science at its worst. If her suspicions are correct, we are looking at a complete realignment of scientific practices, including how we study and treat human disease.
What are readers saying about this book?
"Kent Heckenlively and Judy Mikovits are the new dynamic duo fighting corruption in science."
– Ben Garrison, America's #1 political satirist
"What this book teaches you more than anything else is that science is a dangerous game. The notion that science is precise and unambiguous is wrong. When there is doubt, there is the potential for powerful interested parties to make life miserable for a scientist with integrity. Throughout the book, intrigue is seamlessly intertwined with fascinating revelations about the still poorly understood science behind the potential role of retroviruses in mysterious debilitating diseases like chronic fatigue syndrome and autism."
– Dr. Stephanie Seneff, Senior Research Scientist MIT Computer Science and Artificial Intelligence Laboratory
"The breathtaking story of an extraordinary scientist who discovered the most likely cause of chronic fatigue syndrome, only to witness a cover-up and character assassination emanating from the highest levels of the scientific community. An incisive critique of what's wrong with science today, and yet a hopeful portrait of how science still has the means to find the truth. It leaves you overwhelmed by the insidious methods and players corrupting science, but hopeful for truth-seekers in the scientific community like Dr. Mikovits who are persevering against all odds."
– J.B. Handley, co-founder of Generation Rescue and author of How to End the Autism Epidemic
"This book is a jaw-dropping excursion through the lies of Big Money, Big Government and Big Pharma. God bless Dr. Mikovits for her courage in sharing this story!"
– Max Swafford, author and educator