Eating nuts and seeds found to cut your risk of premature death by half
If you want to live longer, eat more nuts and seeds. According to a study, eating these foods rich in omega-6 fatty acids, cuts the risk of premature death by nearly half. The study, published in the American Journal of Clinical Nutrition, found that levels of the fatty acid omega-6, which can be found in vegetable oils, were associated to better heart health.
Omega-6 polyunsaturated fatty acids are known for their favorable effect on blood cholesterol. Omega-6 fatty acids promote the production of anti-inflammatory compounds as well. Thus, the researchers of the study investigated the associations of dietary factors with the risk of developing disease only by concentrating on their effects on disease risk factors. (Related: Clear up the Misconceptions about Omega 6 fatty acids.)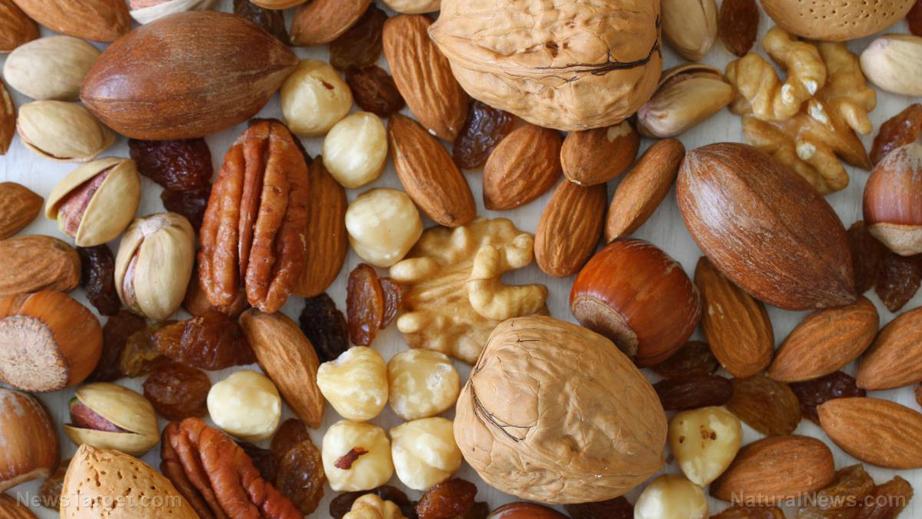 The study was carried out by a team of researchers from the University of Eastern Finland. The team looked at the blood fatty acid levels of 2,480 men aged from 42 to 60 years at the beginning of the study. The team then conducted follow up tests on the participants for an average of 22 years, during which 1,143 men died due to various diseases. The researchers split the participants into five various groups according to their blood linoleic acid level. Linoleic acid is the most common polyunsaturated omega-6 fatty acid.
Results of the study revealed that a high level of linoleic acid, a common omega-6 fatty acid, led to a 43 percent lower risk of premature death in comparison to those with the lowest level. The researchers also highlighted that omega-6 fatty acids promote the production of anti-inflammatory compounds.
Support our mission and protect your health: Organic Seeds of Life combines Red Raspberry Seed Power, Black Cumin Seed Power and Red Grape Seed Powder into the most potent nutrient-rich supplemental superfood powder you've ever experienced. Loaded with flavonoids, antioxidants, anthocyanins, OPCs, ALA and a vast array of vital nutrients. Learn more here.
Another important discovery of the study is that the benefit is seen regardless of the participant's health condition prior to the study. In conclusion, the findings of the study indicated that the higher the blood linoleic acid level, the lower the risk of premature death. Moreover, the study supports findings from past population-based studies that associated a higher dietary intake of linoleic acid and a higher blood linoleic acid level to a lower risk of cardiovascular diseases and type 2 diabetes, without increasing the risk of cancer.
"Our findings showed an inverse association of a higher biomarker of linoleic acid intake with total and cardiovascular disease mortality and little concern for risk, thus supporting the current dietary recommendations to increase linoleic acid intake for cardiovascular disease prevention," explained Jyrki Virtanen, one of the authors of the study.
The best sources of omega-6 fatty acids, include flaxseed oil, flaxseeds, flaxseed meal, hempseed oil, hempseeds, grapeseed oil, seeds such as pumpkin seeds and raw sunflower seeds, nuts such as pine nuts and pistachios, borage oil, evening primrose oil, black currant seed oil, and acai.
In addition to omega-6 rich foods, other foods that can help prolong life include cranberries, green tea, salmon, blueberries, whole grains and olive oil, and wine.
Read more news stories and studies on living longer by going to Longevity.news.
For full references please use source link below.