Cyclone Idai: death toll climbs in southern Africa
Aid workers are scrambling to get supplies to Mozambique as hundreds of survivors cling to rooftops and trees almost a week after deadly Cyclone Idai hit southern Africa.
The Category 2 storm ripped through Mozambique on Thursday, flattening homes and buildings and causing widespread destruction as it then moved through neighbouring Zimbabwe and parts of Malawi.
Aid agencies and several governments continued to step up their deployments, with helicopters in short supply for hundreds of thousands of people displaced by the cyclone.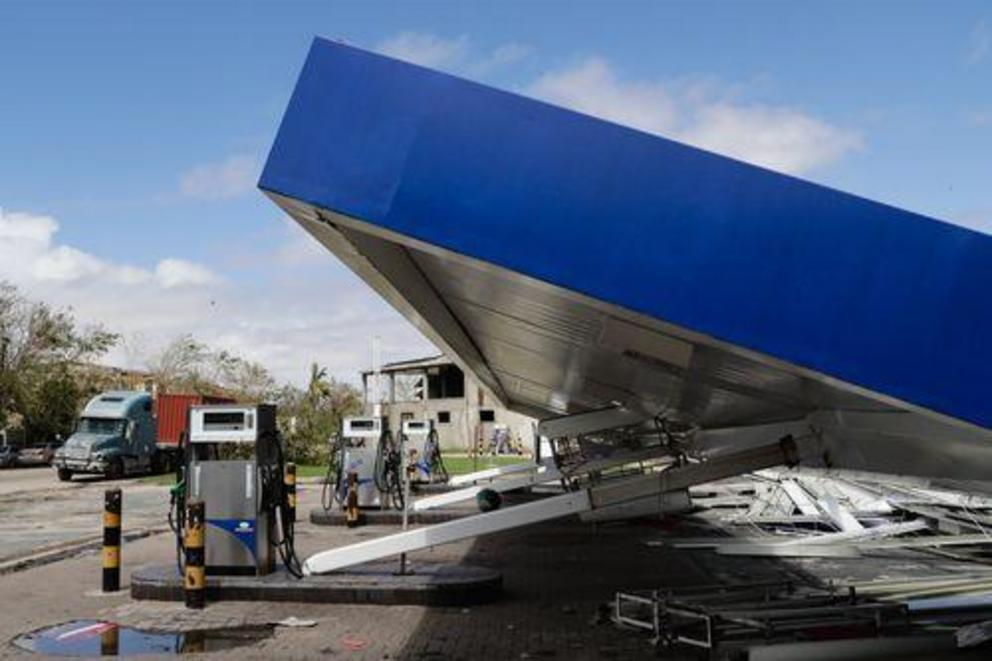 Cyclone Idai flattened this petrol station in Beira City, central Mozambique.
World Food Program spokesman Herve Verhoosel said the "alarming news" that the Marowanyati dam in Zimbabwe was hit by heavy rains overnight, putting populations in the region at risk.
Zimbabwe's defense minister said more than 120 bodies had been washed into neighbouring Mozambique, where residents there buried them, and more bodies were still being recovered in rivers, raising the official death toll in the country to 259.
"Most of the bodies were washed into Mozambique and because they were in a really bad state, they could not keep the bodies," Defense Minister Oppah Muchinguri said, speaking in the eastern city of Mutare. "So they ended up burying them."
Meanwhile, the confirmed death toll in Mozambique rose to 217, the Portuguese news agency Lusa reported, and in Malawi, at least 56 people were killed. But that was sure to rise.
Motorcycles pass through a section of road damaged by Cyclone Idai in Nyamatanda, about 50 kilometres from Beira, in Mozambique.
Mozambican President Filipe Nyusi has estimated that 1000 people could have been killed in his country alone. Zimbabwean officials have said some 350 people may have died in their country.
Homes, villages and entire towns were submerged across central Mozambique, where flooding created a muddy inland ocean 50 kilometres wide.
The UN food aid agency said 400,000 people were displaced and "in urgent need of life-saving assistance" in Mozambique's coastal city of Beira and flooded areas along the Pungue and Buzi rivers.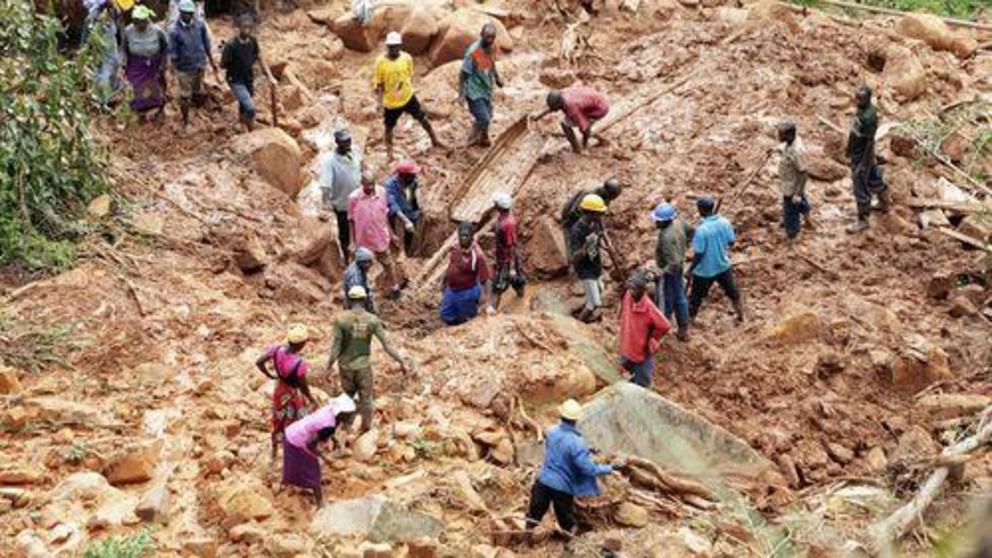 A family dig for their son who got buried in the mud when Cyclone Idai struck in Chimanimani.
The persistent rains lifted in some areas on Thursday, and floodwaters began to recede in Beira, the worst-hit city, and in the countryside, according to a Mozambican government report.
"Yesterday, 910 people were rescued by the humanitarian community," said Caroline Haga of the International Federation of the Red Cross in Beira. She said 210 were rescued by five helicopters and 700 were saved by boats.
People stand on a rooftop in Mozambique, waiting for rescuers.
Aid groups were continuing to work non-stop to rescue families desperately clinging to tree branches and rooftops for safety from the surging waters.
"A family saw their brick house swept away from them. When they went to another house for safety, the roof collapsed," Machiel Pouw, Save the Children's response team leader in Mozambique, said in a statement.
"Another family fled for safety in a tree. There are tens of thousands of heartbreaking stories like this, lives shattered over the past days."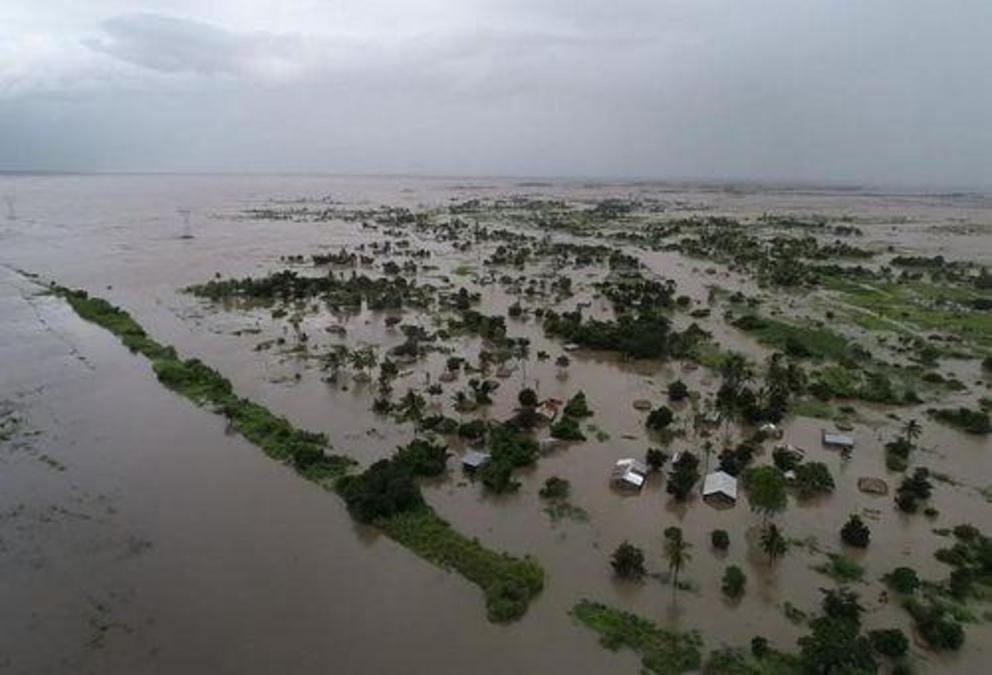 Flood waters cover large tracts of land in Nicoadala, Zambezia province of Mozambique.
It will be days before Mozambique's inundated plains drain toward the Indian Ocean and even longer before the full scale of the devastation is known.
WFP said Malawi's government had reported more than 920,000 people in the country were affected by the floods.
The agency said Idai had had a "limited impact" on Malawi, and projected that the number of affected people will decline as they return home.
In Zimbabwe, 90 per cent of the district of Chimanimani — the country's hardest-hit — was significantly damaged, the agency said, estimating that 200,000 people would need food assistance over the next three months.
Aid has been slow to reach affected villagers due to collapsed infrastructure, although the military has been handing out small packets of cooking oil, maize meal and beans.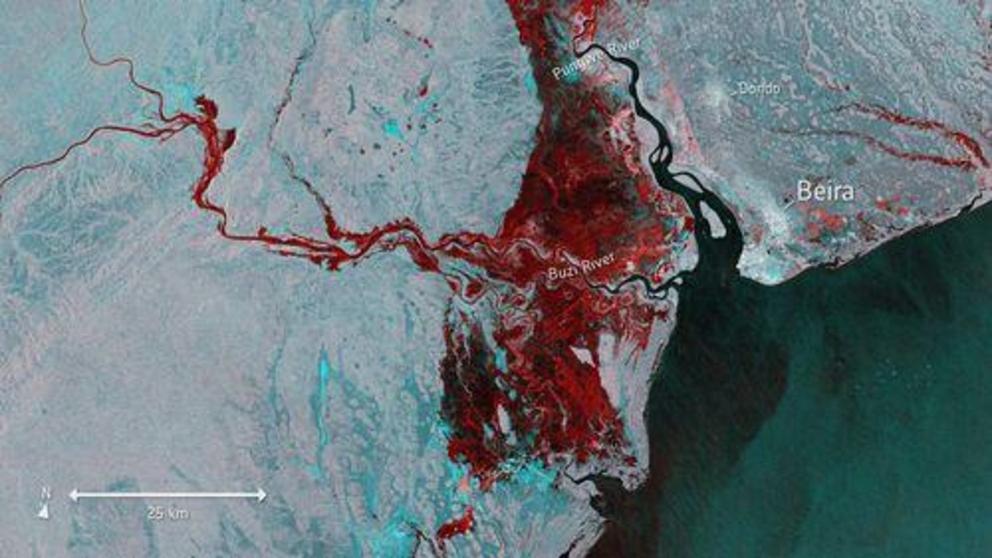 This satellite image shows the extent of flooding in Mozambique.
For the rest of this article please go to source link below.
Video can be accessed at source link below.