'The situation is overwhelming': aid workers on responding to Hurricane Irma
Humanitarians in Haiti and the Dominican Republic talk about the disaster assistance in place and what's needed to prevent the crisis deteriorating further.
Vincent DeGennaro, associate professor at University of Florida College of Medicine and medical director of Haiti Air Ambulance (speaking from Port-au-Prince)
I was worried this would be a catastrophe but fortunately it seems we avoided one. The government was much better prepared for this storm [than before]. They prepositioned materials, forcably evacuated people and had meetings on Thursday in preparation.
We got some rain here in [the capital] Port-au-Prince but not much more than a typical rainstorm. We're waiting for more information from our partners up north, where there's been some minimal flooding, and just need clearance to fly so we can get supplies to the public hospitals that are asking for them. We essentially have a flying intensive care unit on the helicopter: we take a ventilator, meds, oxygen, basically everything you need for critical care. The helicopter isn't that big, so we take the supplies to hospitals, then we fly out someone who is sick and needs transport. During Hurricane Matthew last year we'd have three or four people who needed to be transported, but we would have to just choose one person – the sickest, the person most in need.
Haiti's Department of Civil Protection estimates that 8,000 people are currently in shelters – schools and churches. There were more but many people were able to return home. What we're expecting to see is people with acute injuries that get worse as time goes by: deep lacerations from wood or metal causing infection or tetanus. If a hospital is flooded, or doctors can't get into the hospitals, then infections are more likely to go untreated. The Artibonite river, which goes through the heart of Haiti and has been the primary source of cholera outbreaks [since the 2010 earthquake], has flooded and we're going to have to see how bad things get with that over the next few days.
Obviously this hurricane is just going to make bad things worse. The Haitian government doesn't fund healthcare, it's 6% of the budget when it could be 15% or 20%, and when you don't fund healthcare you don't have medication, staff aren't paid on time, and then they go on strike because conditions and pay are so poor. International partners can help with short-term solutions and rebuilding. But in the long term the Haitian government needs to increase funding for the public healthcare system."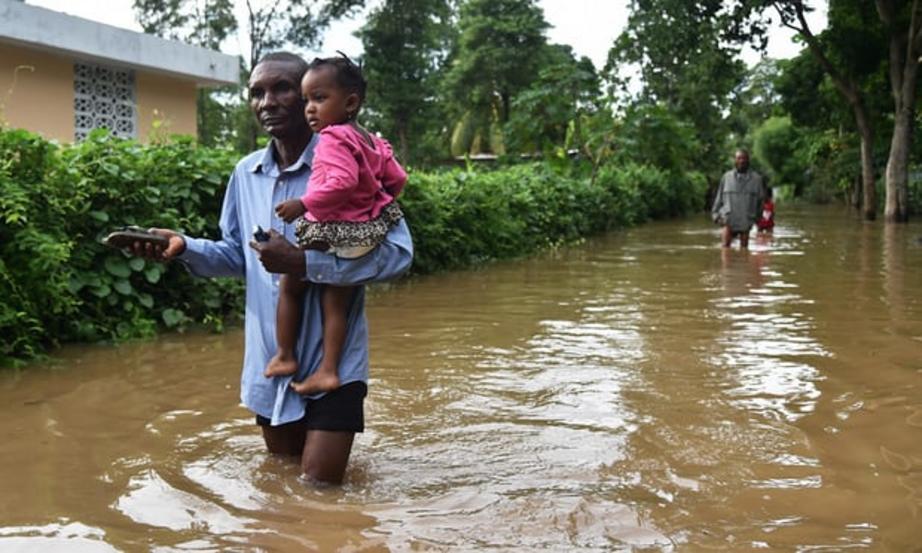 A street in Fort-Liberté, north-east Haiti, after Hurricane Irma passed through.
Tania Escamilla: communications coordinator, Oxfam Haiti
Cap-Haïtien, where I'm based, is the second largest city in the country and is on the northern coast. We're headed out east right now towards the border with the Dominican Republic, where we've heard reports of flooding up to one metre high and damage to infrastructure such as bridges and roads. There's still a very light rain falling and the slum areas here in Cap-Haïtien and along the coastal areas may have flooded, leaving people without their belongings or basic sanitation. So we'll need to start providing safe drinking water and hygiene kits.
Haiti has a cholera epidemic and flooding – especially with waste and rubbish – can produce a rise in cholera and other diseases. Luckily we've got big warehouses in Port-au-Prince and Cap-Haïtien with stocks of chlorine tablets and hygiene kits but we'll still need to assess just how much we need to put out and whether or not we need to fly in supplies from Barcelona or Panama, where we have bigger warehouses. The response for Hurricane Matthew last year isn't even over yet, so the government is very aware that this situation is overwhelming and asked for international aid two days ago."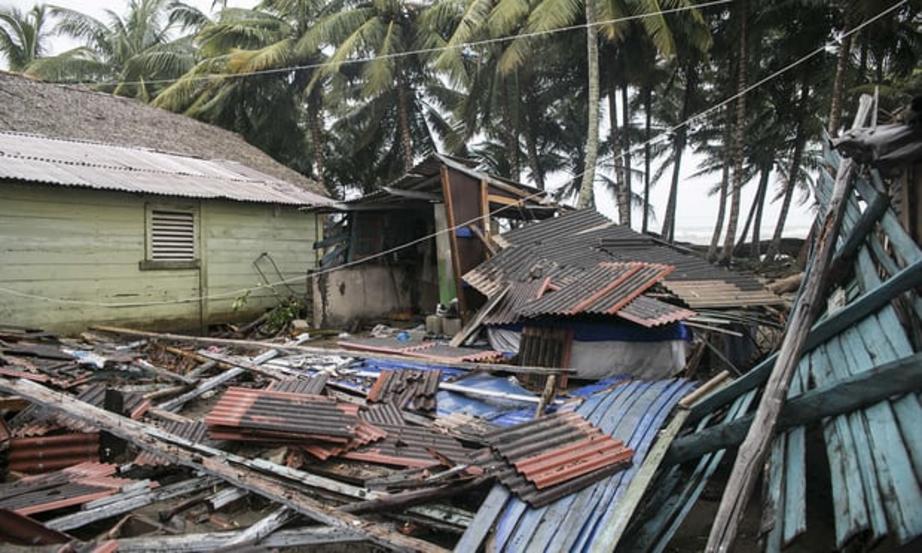 A home flattened by Hurricane Irma in Nagua, Dominican Republic.
Carlos Arenas, humanitarian coordinator, Oxfam Dominican Republic (Santo Domingo)
I'm about to have a meeting with the UN's Office for the Coordination of Humanitarian Affairs and then we're going to take a drive up to the north of the country, to the provinces of Puerto Plata, Monte Cristi, Maria Trinidad Sanchez and Samaná, where the government says the most affected areas are. More than 2,000 houses have been damaged and over 8,000 people are in evacuation shelters. We expect those numbers to go up over the next few days as more data comes in.
By comparison with other islands Hurricane Irma hasn't been as catastrophic here as we expected. But we have to mobilise our supplies – especially the emergency response in terms of water, sanitation and shelter – in case the government doesn't meet the humanitarian needs of the most vulnerable people. We've got to look out especially for dengue, cholera, chikungunya and leptospirosis, which is transmitted by rats.
Historically the Dominican government has had very serious gaps in its response to disasters, especially when it comes to shelter and housing. Around 8,000 people are still waiting for housing that was promised to them after hurricanes David (1979), George (1998) and Debby (2000) destroyed their homes. The government just doesn't have the capacity to build new houses or address the needs of the most vulnerable. We are working with those affected and asking the government to respond adequately."